"Rollins has done it again. Real history and science play a key role in all of the action, which never wanes...Definitely keep an eye out for this one."

—

Library Journal [Starred Review]

"If you're a fan of smart, entertaining adventure fiction, this is your summer beach read writ large. . . .All the science, all the history, and all the locations are masterfully intertwined. The characters are multi- dimensional. And the story is, well, a corker."

—

Mark Sullivan, New York Journal of Books

"After Crichton passed away in 2008 he clearly passed the baton to James Rollins, who like Crichton, is a renaissance man."

"Rollins's roguish charm comes from his efforts to persuade readers the story is credible [through] real-life sources for his novel's science, history and geography."

"His books have everything…Yet it works, because Rollins is a master of controlled chaos."

—

Fort Worth Star-Telegram

"Terrible secrets, the sweep of history, an epic canvas, breathless action...nobody—and I mean nobody—does this stuff better than Rollins."

—

Lee Child on The Devil Colony

"This guy doesn't write novels-he builds roller coasters...Rollins excels at combining action and history with larger-than-life characters...A must for pure action fans."

"James Rollins is a master of international action and intrigue."

—

Richmond Times Dispatch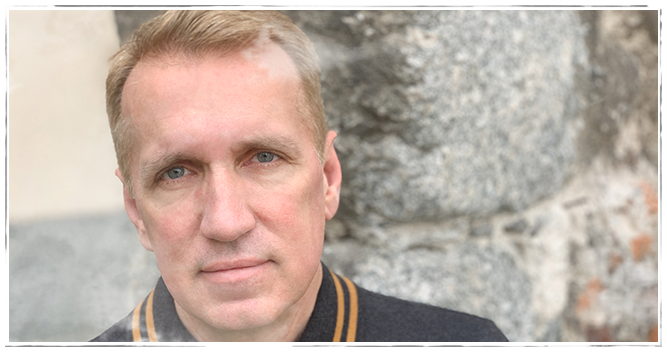 James Rollins is a #1 New York Times bestselling author of international thrillers, translated into more than forty languages. His Sigma series has been lauded as one of the "top crowd pleasers" (New York Times) and one of the "hottest summer reads" (People Magazine). In each novel, acclaimed for its originality, Rollins unveils unseen worlds, scientific breakthroughs, and historical secrets--and he does it all at breakneck speed and with stunning insight.
As a boy immersed in the scientific adventures of Doc Savage, the wonders of Jules Verne and H.G. Wells, and pulps such as The Shadow, The Spider, and The Avenger, James Rollins decided he wanted to be a writer. He honed his storytelling skills early, spinning elaborate tales that were often at the heart of pranks played on his brothers and sisters.
Before he would set heroes and villains on harrowing adventures, Rollins embarked on a career in veterinary medicine, graduating from the University of Missouri and establishing a successful veterinary practice. He continues to volunteer his time and veterinary skills in support of the local SPCA. His hands-on knowledge of medicine and science helps shape the research and scientific speculation that set James Rollins books apart.
Explosive, Page-Turning Adventures
The exotic locales of James Rollins novels have emerged as a hybrid between imagination, research, and his extensive travels throughout the United States and Europe, as well as New Zealand, the South Pacific, China, Southeast Asia, Africa, Australia, and South America. Recent jaunts include book tours and stops across the country and several European nations to give talks, seminars, and media interviews.
In recent years, much of James' travel has involved meeting readers in small and large groups, at writing and fan conferences, and even aboard seagoing "seminars." James' mentoring and coaching skills have made him a sought after writing instructor and guest speaker for workshops, symposia, conventions, and other forums throughout the country.
James Rollins is the author of the bestselling Sigma Force series Sandstorm, Map of Bones, Black Order, The Judas Strain, The Last Oracle, The Doomsday Key, The Devil Colony, Bloodline, The Eye of God, The 6th Extinction and The Seventh Plague, The Demon Crown; six individual adventure thrillers; the blockbuster movie novelization, Indiana Jones and the Kingdom of the Crystal Skull; Tucker Wayne Series, The Order of the Sanguines Series and the Jake Ransom Series middle grade series. The fourteenth Sigma Adventure, Crucible: A Sigma Force Adventure, debuts January 8th, 2019.
Paying It Forward
James Rollins is the founder of Authors United, a group of bestselling authors dedicated to raising funds and awareness for USA Cares. This nonprofit organization seeks to help soldiers and their families through job placement, housing assistance, and emergency aid. Their mission is simple: restore financial stability and self-sufficiency, while instilling a renewed sense of hope among the brave men and women who have put their lives on the line for our freedom.
Featured Media
Which Order to Read Sigma Force Books

Will My Books Be Made Into Movies?

A Look Inside My Personal World

What I Wanted To Be When I Grew Up

My Real Last Name

The Question All Authors Hate To Hear

Favorite Authors

The Reason I Started Writing

Storytelling Driving Force

My Writing Process

How I Use A Story Arc

Adding Characters When I Write

My Idea Box

Do I know the end of the story?

Transitioning from Short to Long Fiction

Favorite Character Of All Time

How I Cross Link Characters

The Demon Crown Trailer

Do I Travel To All The Places I Write About?

The Demon Crown Animated Promo