Tucker and Kane's next adventure
Tucker and Kane's next adventure is titled, "War Hawk". Read a sneak peek of their next journey in today's paperback release of The Kill Switch.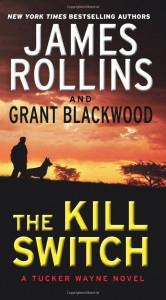 Who does the U.S. government call upon when a mission requires perfect stealth, execution, and discretion? Meet the newest recruits to the expanding Sigma Force universe—former Army Ranger Tucker Wayne and his stalwart companion, Kane, a military working dog of exceptional abilities — in: THE KILL SWITCH …
Hunted and betrayed at every turn, Tucker and Kane must discover the truth behind a biological threat, a horror out of the ancient past that can be weaponized to terrorize the modern world. The journey of discovery will take the pair across the frozen steppes of Russia to the sun-blasted savannahs of South Africa, from the war-torn mountains of Namibia to the snowy Great Lakes of the United States.
As time rapidly runs out, the deep and intimate bond between dog and soldier will be tested to the extreme. It will take all of their skill, talent, and, most of all, trust in each other to piece to piece together a mysery going back to teh origins of life on Earth, to discover the key to tan ancient peril that can destroy the heartland of America, and, with it, the world.